How XR is Changing Retail, Fashion, and Entertainment
14 May 2019, Posted by Technologies
in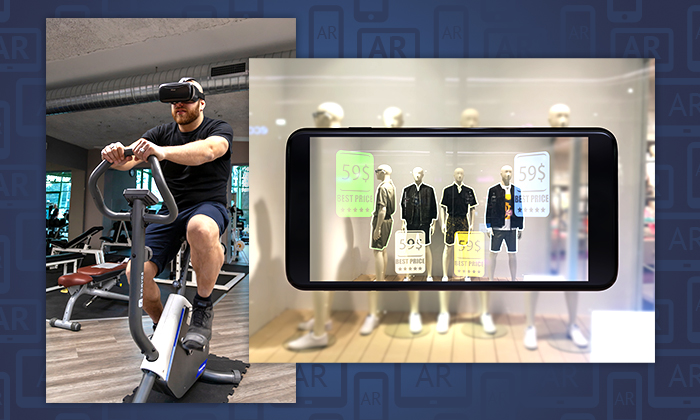 2019 is turning out to be a really interesting year for those of us working in the XR field (XR meaning AR, MR, and VR). The past couple of years we have seen an uptake on the enterprise side, with companies like Boeing, Coca Cola, Caterpillar, and many others adding AR and/or VR to the tools they use for manufacturing and design.
But this year I am particularly excited about consumer facing applications. Recently Mercedes Benz and BMW have started to replace owner manuals with AR applications on select models. Vuforia launched Chalk, a type of "you see what I see application" that allows people in different locations to share a live view of the same environment, and draw simple annotations called Chalk Marks. L'Oréal used AR effectively to offer virtual makeup try-ons on its website.  And Accenture, bridging the gap between merchandising and consumer behavior, created a virtual store to learn about user behavior and reaction to placement, assortment, and signage, and other factors that affect the buying experience.
The list of successful uses of AR and VR are growing on a weekly basis. I think what makes me particular excited about this news is that most of them address real everyday needs, and provide a direct benefit to the end users. While games and spectacular projection-based demos get a lot of publicity, real use case scenarios are far more effective.  They create a deep impact as consumers start to learn about the benefits of incorporating XR technologies for daily use at work and life in general.
Next week we have a great opportunity to analyze current opportunities—what is  working and what is not. I will be joined at Digital Hollywood in Los Angeles this coming May 21st, at 10AM at the Skirball Center by an amazing team of experts with real hands on experience. Raffaella Camera (Accenture), Tony Parisi (Unity), Olivier Koelemij (Media Monks), Nigel Tierney (Ryot), Silke Meixner (IBM), and Michael Leventhal (Holmes Weinberg) will be participating in a round table conversation covering current impact, use cases, challenges, and what to expect in the next 6 to 12 months in the world of XR. I will of course be presenting some of the latest advances of our "Hoodoo" platform and ecosystem for AR, and how you can leverage this cost-effective and ready for market solution for your business, no matter what size.
We'll be sharing valuable information and as it has become a tradition we'll also distribute free of charge a PPT with analytics and additional information to all session attendees. If you can't join us in L.A. you can still join us via Webcast. Videos will be posted by the conference organizers every day.
Come join and talk to the experts directly and see how we can help you design a solid and productive XR strategy, and start taking advantage of these amazing technologies. Hope to see you there!