Augmented Reality has Reached the Tipping Point: 10 Tips to take advantage of AR
16 Oct 2019, Posted by Technologies
in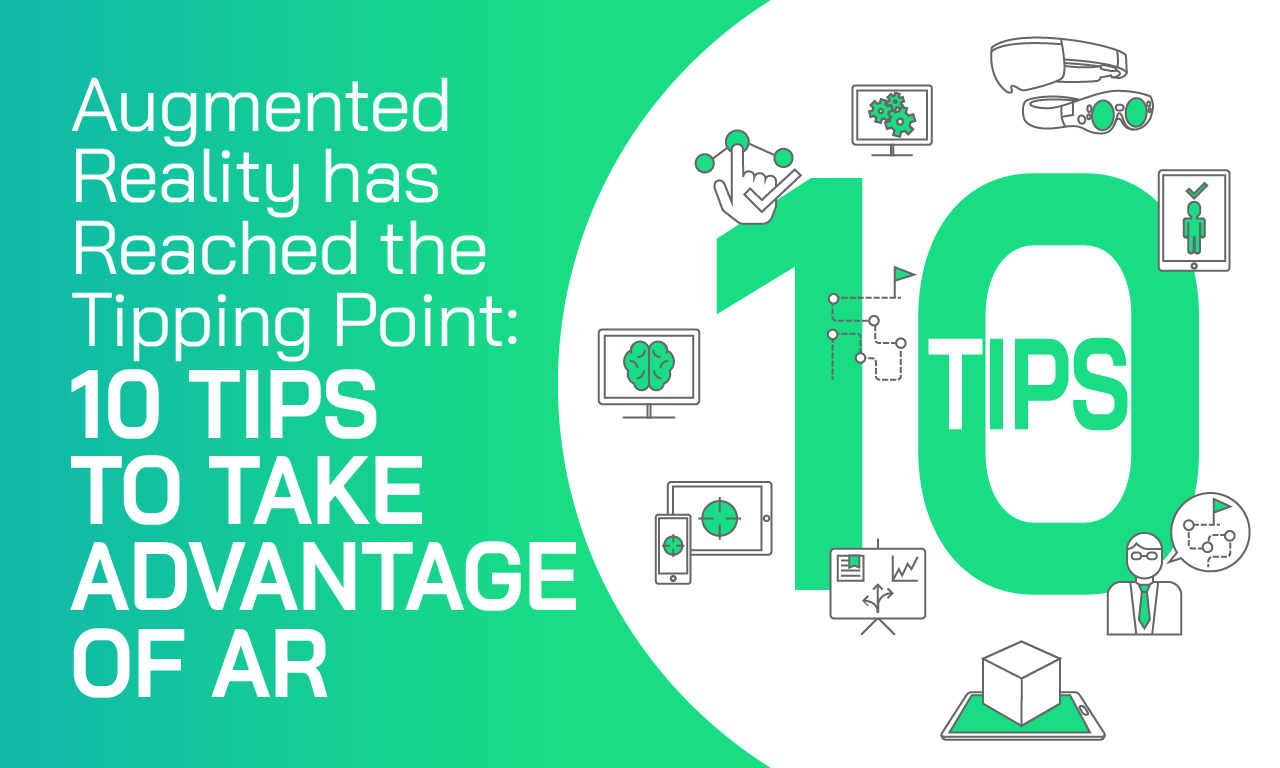 We hear a lot about Extended Reality these days and, while neither AR or VR has reached maturity, AR is already having a significant impact on most business sectors. Retailers, advertisers, educators, travel experts, and more have begun to incorporate AR into their products, services, and marketing campaigns.
In a couple of years, 5G will be a reality, at least for all of the US, and probably many countries in the European Union and Asia. If you are just learning about 5G and wondering how it is going to impact AR's growth and subsequently your products or services, you are not alone. 5G is the fifth generation cellular network technology that will allow us to stream content directly into mobile devices and computers, in most cases without a download.
With over 1,000 AR companies already in existence, sometimes it's hard to understand the landscape.  Are they all the same? Which company or technology will suit your needs?, What kind of AR, or aspect of it, matters to you? I hope the tips below help you better understand your options, and how you may start to develop a solid strategy, use cases, and analyses to leverage AR for your business moving forward.
Focus on mobile. It is the real addressable market and is being propelled by both Apple and Google,with critical hardware innovation. Over a billion devices are now AR ready.

I Love Magic Leap, and Hololens, and others, but consumers, and most small and medium businesses are not ready to spend thousands of dollars per device any time soon (and perhaps never will be.). Furthermore consumers are not going to walk around with bulky HMDs that make Googles' smart glasses from a few years ago look cool. These kinds of devices are many years away from becoming mainstream (other than in amusement parks and some entertainment venues).

Current market-leading technologies you should learn about, including their differences are ARKit, ARCore, Vuforia, Wikitude for software and Qualcomm if you are interested in hardware.

Leading enabling services and platforms you should investigate are: SparxWorks, Augmania, Spark Studio, Lens Studio (Snapchat).

Three key things you need to be mindful of so past mistakes are not repeated

No proprietary authoring environment! Pay attention to services that let you leverage your team's expertise, the tools you know how to use, and enable creativity and that basically makes it easy and efficient to publish AR. Don't go down the Betamax hole!

Choose a platform or development solution that is flexible, efficient and easy to use.

When you investigate financing options, remember that flexible licensing plans are hallmarks of companies committed to being true partners. No one shoe can fit all!

Usability, as it relates to your products and services, is extremely important. Do your homework, create strong use cases, be practical, sometimes less is more.

Understand what tools, platforms, or distribution ecosystems can actually reach your market. For example don't try to reach baby boomers with SnapChat, or millennials with Facebook.

Seek the right help. If you don't have an in-house expert seek a consultant that has real experience, and is actively engaged in developing real solutions, Accenture, Media Monks, RYOT, SparxWorks, are some companies that come to mind.

Understand the legal issues that can arise from the use of AR, and VR for that matter.

And finally, you don't have to hit a half-court shot. To use a well worn but true cliché, Rome was not built in a day. Take it step by step. Start simple. Remember what your products and brands are about before creating AR /XR experiences. Make a lasting impression, not a "saw it, cool, next" moment.
I hope this basic list helps you get started or steers you in the right direction. If you'd like to learn more about Augmented, Mixed, and Virtual realities please join us at the Mobile World Congress in Los Angeles from 10/22 through 10/24. I will be discussing strategy opportunities with an amazing panel on10/23 at 11 AM. I will be joined by Raffaella Camera (Accenture), Olivier Koelemij (MediaMonks), Nigel Tierney (RYOT), Silke Meixner (IBM), and Patrick Costello (Qualcomm). We look forward to sharing what we have learned with you. If you can't attend, request our PPT presentation which includes valuable information and analytics about the industry. It is free!
If you can't make the date, we'll also be presenting at Digital Hollywood November 12, CES January 6, and Mobile World Congress in Barcelona this coming February.
I look forward to seeing you and answering your questions.
TAGS > Accenture, AR, AUGMENTED REALITY, Bill Newell, IBM, MediaMonks, MIX REALITY, MR, Paran Johar, Qualcomm, Ryot, SparxWorks, XR
NO COMMENT