What is the Best Way to Start a New Project?
22 Jul 2014, Posted by Technologies
in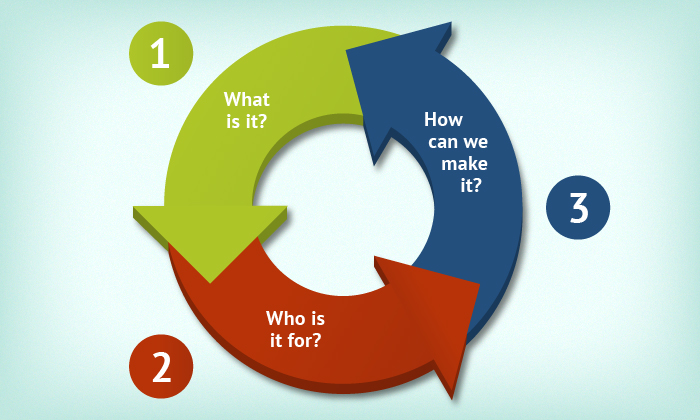 So you have a great idea for a new digital product or service, but you are not a developer and don't know much about technology.  How do you get started?
Don't worry, you are not alone. Most entrepreneurs are not necessarily techies. The secret to successfully building a new product or service is all about strategy and identifying what is needed to succeed.
It always comes down to three simple questions. What need or problem are you solving? Who is the product or service for? And, what do you need to make it happen? Let's expand on these.
Step 1: Ask yourself, "What need or problem are you trying to solve?"  
          You need to define the problem carefully and then it is important to be a good critic of your own ideas. First, do some old fashion research.  Find out if someone else is already addressing the issue. Has someone else thought of a very similar product? If someone has, that does not mean you need to give up on your idea. Often finding competing ideas validates the need for your idea in the marketplace. This could well be your first "check off" on the road to determining if you have a valid and viable proposition. The follow up questions you then need to ask yourself are:
• Is the service or need being adequately satisfied by what is already available in the marketplace?
• If not, what makes your idea different or superior to the competition?
• Do you possess any special skills or have access to a key element for this product or service that would give you a competitive advantage?
Step 2: Next, "Who is the product or service for?"
          Do many people need this product or service? Is it a "B to C" business (business to consumers)? Or, is it "B to B" (business to business), i.e. something that would benefit companies as opposed to individual consumers? In either case, what is the size of the market? Can the service or product be sold to multiple markets?  
Knowing what the possible markets are, and quantifying the number of potential users, will help you create a business model that illustrates what percentage of the market you can realistically serve. It will also help you determine what kind of user adoption or conversion you can expect (this will of course vary drastically depending on the idea). Strategically, these questions will help you deepen your research and thoroughly understand the market and evaluate the strength of your idea
Step 3: Last, but not least, "What do I need to make it happen?"
Do you have the necessary skillset to execute your vision? Do you have the resources you need to successfully execute the project? If the answer to both of these questions is yes, congratulations you are probably already a multimillionaire. If the answer to one or both questions is no, then don't worry you are right where most people or businesses start.
If you don't have the expertise, find or hire someone that does, but be careful, make sure you get a true expert or company, with a proven track record in your area of need.  If you choose a company, make sure you get the "A" team. Sometimes companies trot out the experts to close a sale and substitute a lesser team once the contract is signed.
If you choose an individual, remember that you want someone with a broad range of knowledge and skills when it comes to executing projects. You want the kind of person that blends technology expertise with creative vision, who understands business and operations, and a person that knows how to put together a good team.
If you don't have the financial resources, then find someone that does. There are plenty of angel investors, professional investors, investment groups, money raising opportunities, and even crowdfunding. Without question, you must be relentless and determined to raise money or to find a partner that is willing to bankroll your vision. I am not saying it's easy but plenty of people succeed, so why not you.
Don't forget the most important ingredients of all, partner with honest people who share your level of passion and determination to succeed. There are plenty of good ideas out there. The difference between success and failure lies in the execution, the quality and integrity of your team.  If you really plan to partner with someone, keep in mind a partnership is like a marriage (ideally a good one).  There will be good times and bad times.   Success comes with mutual respect and commitment.
In my next post, I will share my thoughts on the steps that follow these three initial questions. Hope this post is of help to you.